Wing Bay Camp Garden "Umi to Sora" Glamping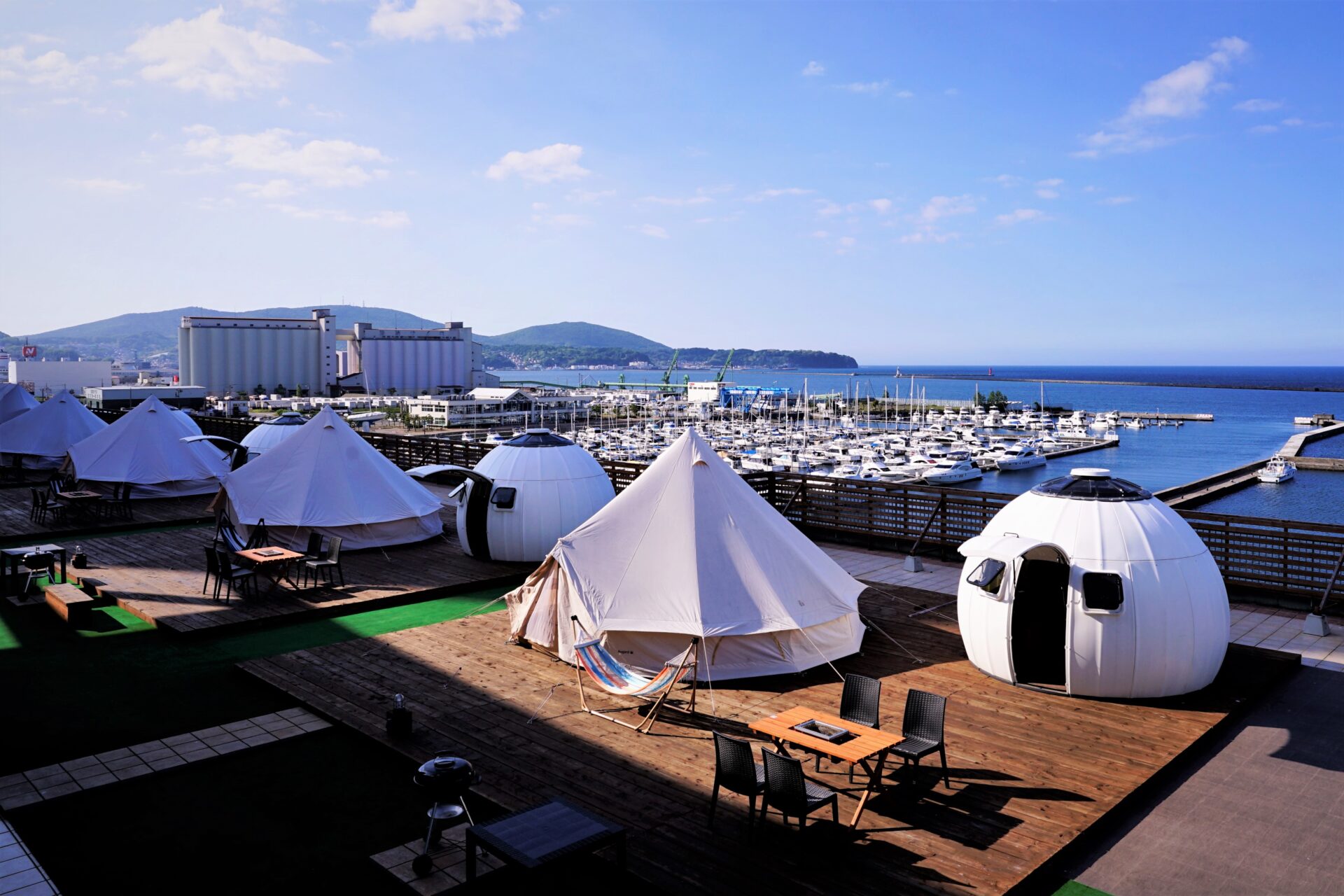 Wing Bay Camp Garden "Umi to Sora", a glamping facility where you can enjoy BBQ with carefully selected ingredients while looking at the endless blue of the sea, yachts and boats of Otaru Port Marina, and the clear blue sky, has been open from June 1, 2023.
☆ Gears and food, everything is included.
☆ Few chances to see bugs, as it is located in a commercial facility that is clean and safe.
☆ There are endless ways to enjoy in outdoors and indoors.
Enjoy a unique glamping experience like no other!
Venue:
Wing Bay Otaru 4F 2nd Ave.
Wing Bay Otaru is a commercial facility directly connected to JR Otaru Chikko station. There are various kinds of shops, also a movie theater, bowling, and other facilities where children can play to their heart's content.
On the other hand, you can not only stroll along the beach and jog, but also experience a cruise and various rentals at the Otaru Port Marina across the street.
Period:
June 1 – September 30, 2023
Hours:
Check-in 3:00 pm Check-out 10:00 am
Tents:
⛺Tent for 4 people + EZDOME (for 2 people) x 4
⛺Deluxe tent for 6 people + EZDOME (for 2 people) x 1

Fee:
With dinner (BBQ set) package
11,000 yen – 20,000 yen (tax included)
*2,000 yen additional for a deluxe tent

↓↓ For Hokkaido Residents only (Excl. Saturdays) stay package with a breakfast box is now on sale (Aug. 21 – Sep. 30)
↓↓Stay packages with "Marina Park Otaru Bay" entry ticket is also on sale now(Until Sep. 23)
*We accept reservation for a breakfast next day (1,500 yen)
*Up to 5 groups (maximum 6 people per a group) per day
*Same fee applies to children. (Only accommodation fee will be free if the child sleeps together)
*Drink fee is excluded.
*Hours or menu contents may subject to change without a prior notice.

Restaurant "Umi to Sora" for BBQ or a la carte menus for day use is also open.
>>Read more